By Chris Karl
Chris is a Managing Director at Progress Partners and has over twenty years of experience in digital media sales, strategy, ad technology, data, and marketing.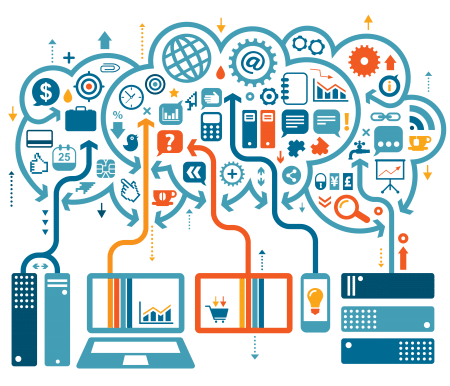 November 18, 2019 ? Starting in the 1990?s with the advent of Business Intelligence tools (a.k.a. BI), to the 2000?s with Customer Relationship Management (CRM), and into the 2010?s with data management and customer data platforms (DMP?s and CDP?s), we have been on a multiple decade long quest to harness and harvest the power of big data. These evolutions in managing data have been the pillar events of their respective decade, creating new unicorns and huge marketplaces along the way. The terabytes of data have grown into petabytes and petabytes have grown into exabytes. The pace of data growth is accelerating at an astounding rate. At the 2010 Techonomy conference, Eric Schmidt stated that ?there were 5 exabytes of information created by the entire world between the dawn of civilization and 2003. Now that same amount is created every two days.?  Think about that for a moment, you don?t even have to know what an exabyte is to understand that ?big data? is getting even bigger.
Working with large disparate sets of data where the customer is known (deterministic) or unknown (probabilistic) comes with many challenges around uniformity, recency, and quality. We have far outgrown the human processing capabilities of data science and analytics teams working on first generation Business Intelligence platforms. While these skill sets will continue to be important, they will be working with new tools to unlock the power of their data assets. These tools will unify aspects of BI and the CDP into a new class of enterprise software that will accelerate usage of cloud services. This is good news for cloud services companies like Oracle, SAP, Salesforce, Microsoft, and Amazon who will ultimately benefit, and who are likely potential acquirers of new data platforms. Key enhancements will include Artificial Intelligence (AI) and Augmented Analytics (AA) which will be vertically integrated into the core stack. AI and machine learning capabilities will supercharge real time insights and business analytics introducing a new class of enterprise software designed to unify data workflow around the customer (data capture, storage, interpretation, and prescriptive action). AI-driven features make analytics and BI tools easier to use. Non-experts can leverage AI to conduct analyses that were once the responsibility of a handful of trained data scientists. As we knock on the door of 2020, we are seeing the customer at the center of a blossoming Customer Intelligence (CI) industry, the next great pillar in the big data era.
According to the 2018 Stratistics Market Research Outlook on Business Intelligence and Analytics Software, the total global market for BI and Analytics software was $22.99 billion in 2017, and is expected to more than double to $55.48 billion by 2026, growing at a CAGR of 10.4%. The research attributes increasing data volume, popularity of cloud delivery models, and growing need for analytics to be the key drivers. Evidence of that growing market can be found in IDG?s 2019 CMO tech poll, where 70% of Corporations indicated they would be increasing their investment in Business Intelligence and Analytics tools in the coming twelve months (the number one most important area of investment overall).
Even further, there is evidence of marketer demand via M&A activity as noted by Digiday: Advertisers Emerge as Buyers of Ad Tech, ?McDonald?s bought personalization platform in March, Walmart snapped up ad tech startup Polymorph Labs to deliver more relevant ads to online shoppers in April, Nike bet on predictive analytics company Celect in August; travel startup OYO Hotels and Homes-bought Danamica, a Copenhagen-based startup that specializes in dynamic pricing through machine learning in September; and the same month MasterCard cut a deal for customer data platform SessionM.? The common theme across all these deals is the desire to harness the power of big data for driving more personalized experiences for their customers; an approach that will yield positive business outcomes.
What?s most notable about the flurry of client and marketer driven acquisitions in 2019 is the fact that they aren?t waiting for their existing enterprise cloud, CRM, and BI providers to integrate these features. This may be an early mover phenomenon, an effort to stem increasing variable software costs, and/or a step to capture more control and security around their first party data assets. In any case, it?s a trend worth watching in the new year as more M&A activity is inevitable.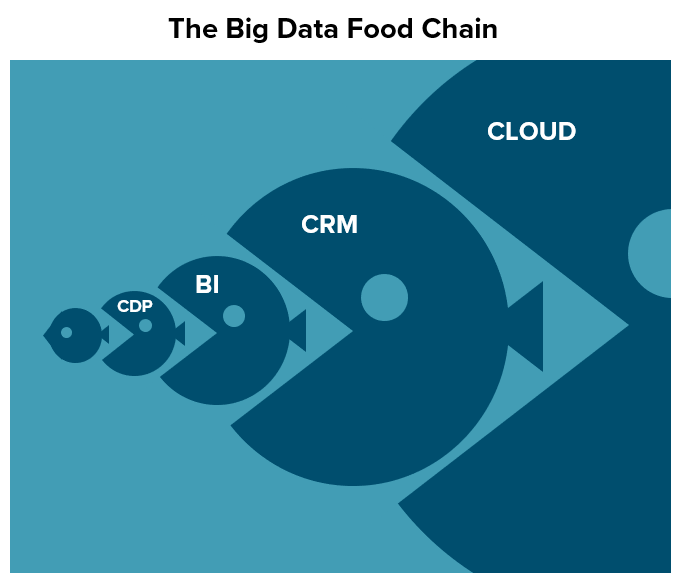 A natural hierarchy and food chain will emerge in 2020 as the Cloud and CRM companies search for paths to revenue growth and realize that BI and CDP categories are ripe for consolidation and in demand of the world?s largest customers of enterprise software. Keep an eye out for for first generation BI and Analytics powerhouses like SAS Institute, SAP, IBM, Microsoft, and Oracle to add Customer Intelligence capabilities as they seek to expand enterprise deals with marketers and integrate solutions into their core products. Salesforce got things rolling with their acquisition of Tableau earlier this year (a monster $15B deal – article here) and Microsoft has done two deals in the past year for Citus Data (article here) and Lobe AI (article here) that address some of these new features noted above. Similarly, product leaders in the CDP space (a smaller nascent market) will be scooping up feature companies that introduce AI and augmented analytics in a rush to be first to market. For example, Amperity acquired Custora, a recent deal that took place earlier this month. We can expect more deals in this space as the CDP and Augmented Analytics market gains traction and a healthy big data software ecosystem heads into the next decade of innovation – this will feed the never ending appetite and scale of the Cloud services companies.
For questions about this article contact marketing@progresspartners.com.
You can also view this article on LinkedIn with public commentary & likes here.