Las Vegas, NV ? April 3, 2017 ? Industry leaders and disruptors convened in Las Vegas for March 2017?s Shoptalk conference, one of the retail and ecommerce industry's most important. The event, founded by Anil Aggarwal (fmr. Global Head of Google Wallet Business Development and host of Money 20/20, the largest payment conference in the world), hosted thousands of retailers, brands, consultants, and analysts to discuss the incredible revolution taking place. One underlying thesis recognized by Sam Thompson (Senior Managing Director, Progress Partners) during the four-day event was the growing importance of multi-channel marketplaces as the future of retail, where to stay relevant, major retailers must diversify their shopping channels or risk becoming irrelevant to consumers.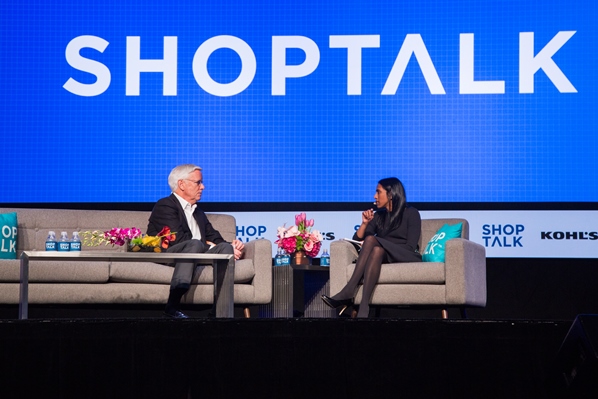 Kevin Mansell, CEO of Kohl's, talks stores at Shoptalk 2017 (Kohl's Corporate)
"Data is becoming an increasingly important part of the equation, where companies are using this multi-channel approach to understand their buyer and cater to this consumer in increasingly sophisticated ways. Corporations are collecting these consumer data and incorporating it into their business plans as sales continue to shift from brick and mortar to online, building out detailed customer profiles collected from ecommerce transactions," Thompson noted. "The strategy is to apply this data to a more tailored or customized approach to the in-store experience to then increase likelihood of a transaction."
Additionally, while solutions abound for all processes up to the Point-of-Sale, outside of loyalty programs, there are few solutions to address the measurement of post-sale interactions and engagement, specifically around customer retention and increasing repeat business. Purchases made by loyalty programs consumers still only covers roughly 20% of total sales (source: Loyalty360). This data gap will close, eventually, but no clear winners have emerged.
During his time at Shoptalk, Thompson was impressed by several growth and expansion-stage companies, some that we had seen before in their earlier stages, and others that were entirely new to the conference circuit:
As the retail industry continues to catch up with technology and incorporate these innovations into their business models, the opportunity for disruptors will continue to grow. As time passes, we see an opportunity for M&A activity to increase as companies remain bullish on building out full-suite services to help both ecommerce and brick and mortar retailers improve their operations, logistics, merchandising, acquisition, and retention.
For more information about Shoptalk, visit their website: www.shoptalk.com.