February 4, 2017 ? Last week, the Wall Street Journal reported the potential merger between Verizon Communications Inc. (NYSE:VZ) and Charter Communications, Inc. (NasdaqGS:CHTR) in what would be a possible challenge to Comcast?s leading position as a MSO in terms of total US Pay-TV and fixed access broadband subscribers. Davis Rosborough, Senior Associate at Progress Partners, provided his thoughts on the possibility of a Verizon/Charter combination:
?Do we think Verizon can pull off this kind of merger? Definitely feasible, especially under what could be a 'once in a generation' pro-business anti-regulatory administration, but it sounds like Verizon is not actively pursuing Charter, according to sources that spoke to CNBC?s Squawk Box after the rumor surfaced. This may be an intentional counter to deflect and dampen media attention and speculation, disrupting the noise around $YHOO approval and normal course of business activities, so I wouldn?t be surprised if it is being actively discussed, but whether or not an accord can be reached remains to be seen.
I think, in general, we?ll see a lot of corporate mega-mergers attempted in the coming year ? it?s the best way for the stewards to maximize their dollar value, whether or not it makes good business sense in the long run, it often creates immediate shareholder value in the near term and healthy pay days for ?the actors? of the deal.
With Net Neutrality in question under Chairman Pai, the possibility for more marriages between content & distribution are high, similar to the AT&T Inc. (NYSE:T) deal pending to acquire Time Warner Inc. (NYSE:TWX). We?ll keep an eye on this to see if anything comes of it.?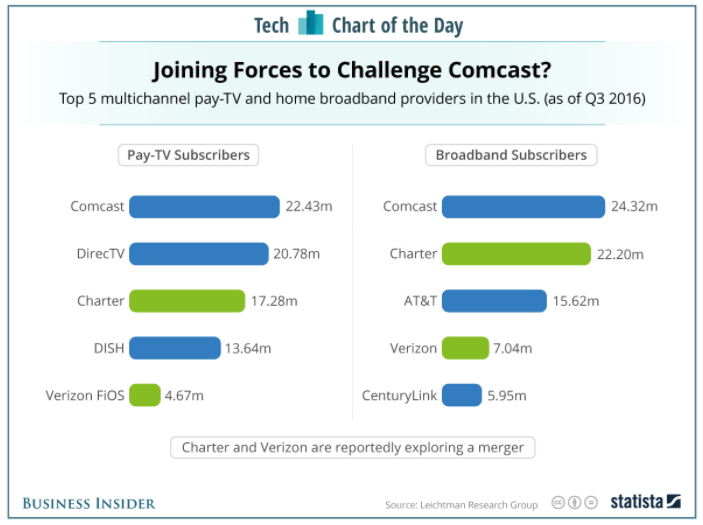 Business Insider: Tech Chart of the Day – http://read.bi/2kRloY3.