By Chris Karl
Chris is a Managing Director at Progress Partners and has over twenty years of experience in digital media sales, strategy, ad technology, data, and marketing.
March 25, 2019 ? A couple of months ago at Ad Exchanger?s Industry Preview event there was a panel of four esteemed media leaders providing insights on the future of the TV Market. On the stage were Executives from NBCU, Viacom, Turner, and Hulu. It was a symbolic moment as we start 2019 on the cusp of a true convergence across the TV and Video marketplace. For those of us that have grown up in the digital space with our eyes on the convergence of media channels it was striking to see broadcast networks front and center at a ?digital? conference alongside Hulu, a media brand born out of foresight (or indifference depending on how you view it) by NBC and Fox back in 2007. This event bookended with last week?s announcement of the O.A.R. (Open Addressable Ready) Consortium point towards a rapidly changing and converging media landscape.
Over the last decade Hulu?s ability to aggregate quality content has been balanced with a calculated patience for time shifted on demand viewership to grow as consumers developed new habits for watching TV. They now command a larger addressable audience than any of the individual networks and have been rewarded with a billion dollar plus advertising business built on the promise of more precise targeting. The networks are now playing catch up to achieve scale against addressable audiences. Management at Hulu should be commended for their rise to prominence in the new World order but they will be challenged by the Networks. Viacom has acquired MVPD platform PlutoTV, Turner has access to a broad reaching media empire, recently acquired ad tech assets, and subsequent launch of Xandr under the ownerhip of AT&T.  And don?t forget NBC?s parent company is Comcast.
Addressable TV (defined as targeted linear and video on demand long form content) is the final frontier for marketers that want better targeting and will provide ample opportunity for panelists at advertising trade conferences for years to come. To frame those conversations, it may be useful to think about three important dynamics that precede the maturation of the addressable TV Marketplace and its ultimate convergence with the broader digital ecosystem:
Total Reach and Size of Market

Supply Enablement

Buyer and Seller Implications
REACH:  Understanding the market landscape in terms of ?total addressable reach? is important when thinking about the size of the market now and what it may become down the road. When you look at the current state of TV addressability you can use any number of research sources, but for the sake of this discussion let?s use Nielsen. According to 2018 Nielsen data for Adults 18+, 73% of reach is derived from linear TV alone, 22% is derived from those reached by a combination of linear TV + OTT, and 6% is derived from those reached by the OTT-alone (chart below and data provided by Nielsen Media Impact). Clearly linear TV has dominant reach but 22% of consumers are consuming both Linear and OTT content, 6% (cord cutters) are in the minority (for now). Herein lies the challenge of creating universal addressability (we can save universal measurement for another day). This is where Supply Enablement efforts are accelerating addressable reach.

Linear TV faces challenges with the proliferation of TV?s sold with turnkey connectivity to the Internet (CTV?s) and more and more accessories that enable connectivity (AppleTV, AmazonFire, Roku, Sling, etc). These numbers are likely to approach 50% addressable reach within the next year and when that happens there is no turning back. The decline in audience ratings across all major demographic segments is dramatic (chart below, source: Nielsen REDEF).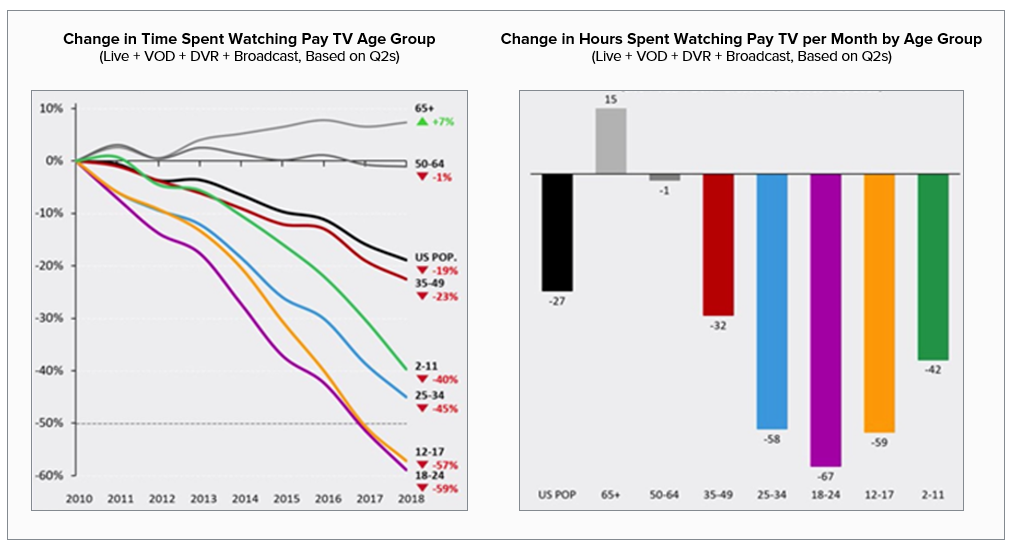 SUPPLY ENABLEMENT:  As more TV viewers change their behavior the addressable landscape and pool of available inventory grows. In 2018 it has been reported by Forbes that ad requests from CTV?s were up 1,640% (no matter what the baseline number was in 2017 that?s a significant pop in scale). The benefit of CTV for the consumer is the ability to toggle to content on demand environments that are streamed on a 1:1 basis, providing the ultimate benefit of choice (including MVPD content from the likes of Hulu, PlutoTV, Roku, Netflix, and Amazon). From an advertising perspective these environments are conducive to embedding a 1:1 ad experience. The same infrastructure that supports the programmatic buying and selling of desktop, mobile, and video inventory (DSP, SSP, and Ad Server) can now point towards CTV/OTT inventory as a source of inventory. The point of connection to those marketplaces is already built and supported by Video Ad Servers that can provide connectivity to buyers via a concurrent bid request to tens of thousands of potential buyers on buyside platforms using a VAST (video ad serving template) standard. There are ongoing debates around how best to route the demand (server side or client side, we?ll write about that next month), but the growth of this marketplace and our ability to monetize it is only limited by the amount of supply that consumers create.
Linear TV broadcasters recognize the writing on the wall and have made moves to enable their linear ad formats, the ads you see when you?re watching TV the old way, for the modern marketer. A key missing component to solving this challenge was a lack of standards in the market that could support this from the supply side (like the VAST standard in on demand environments). Enter Vizio, one of the World?s largest CTV manufacturers, and a consortium of leading broadcasters that launched the aforementioned O.A.R. consortium last week. This new standard aims to create a client side software standard (pre integrated onto your CTV set) that provides the broadcaster the optionality of inserting 1:1 ads via a process called DAI (dynamic ad insertion) via a VAST ad call (the common denominator that that creates convergence between digital demand and addressable video supply). If the O.A.R. standard works, 100% of the ads you see on your CTV whether linear or SVOD will be addressable.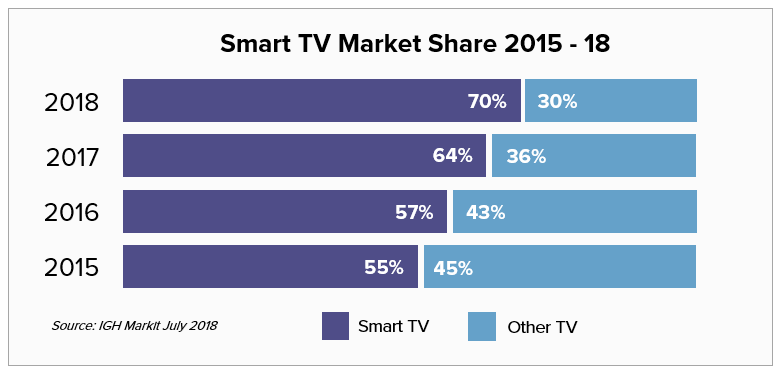 With Vizio and other CTV manufactures now selling 7 out of 10 of the TV?s sold globally and standards like O.A.R. pre-integrated the Addressable TV marketplace is poised for explosive growth in the years to come.
BUYER AND SELLER IMPLICATIONS:  With consumer behavior leading the shift towards CTV environments and supply enablement efforts well underway, buyers and sellers must coalesce around the standards and processes that will govern the buying and selling of this new market. Naturally we are going to see turf wars like the ones reported by AdExchanger this week between TV and Digital teams at agencies that want control over the activation of media budgets. There are many things to consider beyond measurement (which is what everyone seems to be focused on): Who defines the audience? What formats are available? What about guaranteed deals and Upfronts? How does targeting impact forecasting of avails and pricing? These are important issues for the broadcast and cable companies to consider and it is refreshing to see their leaders leaning into this now vs. resisting the change.
Having seen the impact of addressability on publishing companies that create online content for desktop, mobile, and video consumption, I believe it is imperative that Broadcasters rally to define the standards of this new marketplace or run the risk of being disintermediated by technology companies that enable buyers to define audiences and cherry pick inventory (as happened in other media channels). The O.A.R. consortium is a great first step, here are some general guidelines for Broadcasters and content owners to think about as we start to define the buying and selling process:
Never allow non-guaranteed buys to have priority to audiences based on price (no matter how hard that may be). Doing so will undermine your pricing power as a seller.

Guaranteed deals that leverage buyer defined audience definitions should yield more on CPM basis and be blended with guaranteed deals against seller defined audience to allow for fluidity in delivering on guarantees.

Always seek to control the allocation of your inventory to buyers on a direct basis even if that means owning a part of the technology stack to do so (Comcast acquiring Freewheel or RTL acquiring YoSpace are great examples). Otherwise you?re going to incur ongoing fees that will impact bottom line profitability.

Be mindful of who you partner with for Supply Enablement. Commit budget to pay for technology services on a fixed cost basis. NEVER accept a revenue share in lieu of technology services. These companies are natural intermediaries in sheep?s clothing. Do they also buy media? If so there is inherent bias and conflict of interest.

If you accept demand via an outside party do so with caution and understand that you are enabling the intermediation process and margin erosion to happen. Never preference this demand above your direct access demand.

Consider alternative formats (a.k.a. Enhanced TV formats). It has worked in other digital channels and there?s no reason it won?t on TV.
A truly efficient converged marketplace will require a lot of collaboration and investment in the years to come. Historical perspective can help chart the course for growth and productivity for media companies in the future. Keep an eye on this space and the technology underpinning the convergence of TV and Video. There are going to be winners and losers here in the coming years.
About Progress Partners
Progress Partners is a Boston and New York-based M&A boutique investment bank that works with emerging technology companies, with specialized efforts in the media, marketing, advertising sectors. Progress Partners works with buyers and sellers of high growth companies to complete M&A transactions, raise debt or equity capital, as well as, develop and implement strategic growth plans. The firm's high standards of excellence, deep industry experience, extensive network, and entrepreneurial background give Progress Partners the ability to build and realize superior value for its clients. Securities offered by Applied Capital, LLC, member of FINRA and SIPC. For more information, visit www.progresspartners.com.
For questions about this article contact marketing@progresspartners.com.
You can also view this article on LinkedIn with public commentary & likes here.