By David Arslanian
David is a technology-focused M&A advisor based in Boston. He is currently a Managing Director at Progress Partners. Most recently, David was Vice President of Corporate Development and Strategic Partnerships at Telaria. 
March 5, 2018 ? The digital video supply-side platform market has existed in a constant state of flux, expanding and contracting, over the last decade. Bombarded with infusions of venture capital, many companies that play in the ad tech space struggle to attain scale, causing investors to lose interest as they burn through their investments. Most notably, the video supply-side platform space has seen a decline in investment as late-stage investors await the anticipated return on their investments.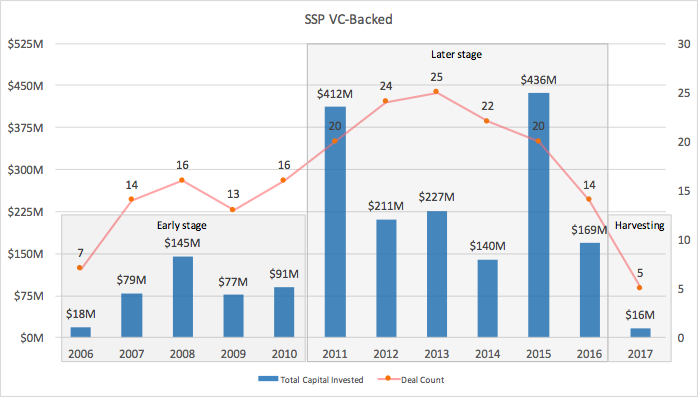 This is a recurring trend: from DSP?s to SSP?s, no industry is more proficient at exploiting inefficiency in the market than ad tech by deploying significant capital to address it. In the early 2000?s, it was difficult to find enough quality video inventory; therefore, multiple ad networks were created. In the mid-to late 2000?s, brands had trouble speaking to multiple agencies, so DSPs rushed into the market with marginal efficiency gains but drastic workflow changes. By the early 2010?s, data had exploded, creating a larger problem of disjointed data spread across dozens of silos (much of that due to workflow changes caused by the DSP) emerged. Data Management Platforms (DMP?s) emerged to better segment, analyze, and make decisions on the targeting of specific inventory based on an advertiser?s preferred audience. Most recently publishers have realized they leverage their own audience data to understand which inventory has a higher relative value to the demand side, and more capital flowed into supply side technologies because ad servers lacked the efficiency of a true SSP.
The cyclicality of boom and bust from a valuation perspective is well documented in each of these categories. Ultimately, SSP values are projected to reach their peak within the next few years as consolidation picks up. It is likely that the market is right in the middle of a natural consolidation period amongst leading SSPs in the sector.
The first wave of M&A activity in this space happens on the heels of late stage capital coming into the market (see Figure 1. 2006-11 below and Figure 2. above in 2014-15). The second wave of acquisitions are strategic consolidations. This trend showed momentum in 2017 and will likely work its way out of the market in 2019. The average deal size in 2017 was around $126M compared to $88M in 2016, a 43% increase YOY. In early 2018, a leading platform was snapped up for $185M, and expect more to come.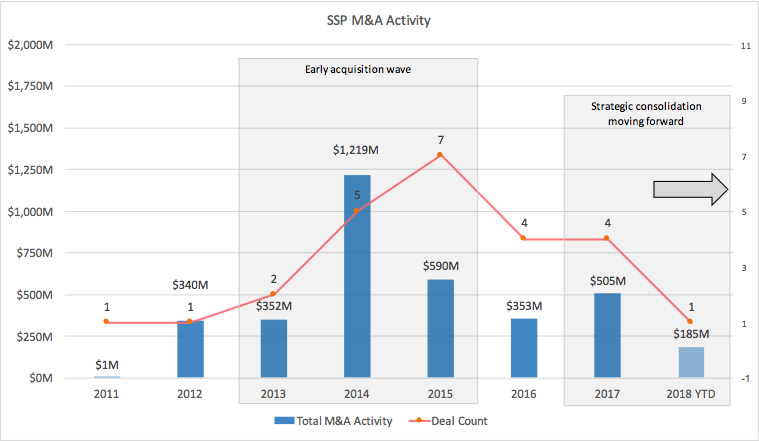 Supply-side platforms carry inherent value to large scale content owners and distributors, but questions remain around where that value is derived from (the cost side or the revenue side), and who lays claim to that value ownership. Does it belong to the publisher as a cost saving play as many may think? Or should it maintain its independence and autonomy that manages many partnerships and sustain itself as a profitable standalone business?
Perhaps it exists as both a cost-savings play and a revenue play. Take the example of Retail, where large chains often buy inventory direct from manufacturers to then sell the white-labeled goods as branded under their own label. These chains create a complete product assortment by offering other non-white labeled products that do not compete with their own branded product, creating two revenue streams that ultimately benefit both the manufacturer/supplier and the retailer. Ad tech follows the same strategy: monetize a strong tech stack regardless of whether it is as a branded or white-labeled offering.
Wherever the outcome lands, there is one certainty: an industry that is proficient at exploiting minor inefficiencies in the market will almost certainly develop another set of technologies that have the ability to change the supply-side. A driving force for this in 2018/19 will be the OTT/SVOD world as the lines begin to blur between Linear/Live TV. OTT has emerged as a leading video distribution channel and it will stimulate a major shift in the role of the SSP. There is a lot of inefficiency in this market and the entrepreneurs sense it. Watch out: here they come.
Download this Progress Perspective here.
Progress Partners is a boutique investment bank and M&A advisory firm in New York City and Boston that serves leading technology & media companies. We actively track over 150 supply-side platforms in the market. For more information, please reach out to marketing@progresspartners.com.