New York City, NY ? May 8, 2017 ? With the recent announcement of Open AP, many are asking who will follow. Fox Networks Group, Turner, and Viacom have all teamed up to create a new advanced audience platform specific to television, the industry?s first open platform for cross-publisher audience targeting and independent measurement. Advertisers will have access to a standard dataset providing more granular consumer information based on more than pure demographics. The envisioned platform will be operated by a leading, neutral third-party auditor, Accenture, with set-top box data provided by comScore/Rentrak and audience and ratings data coming from Nielsen.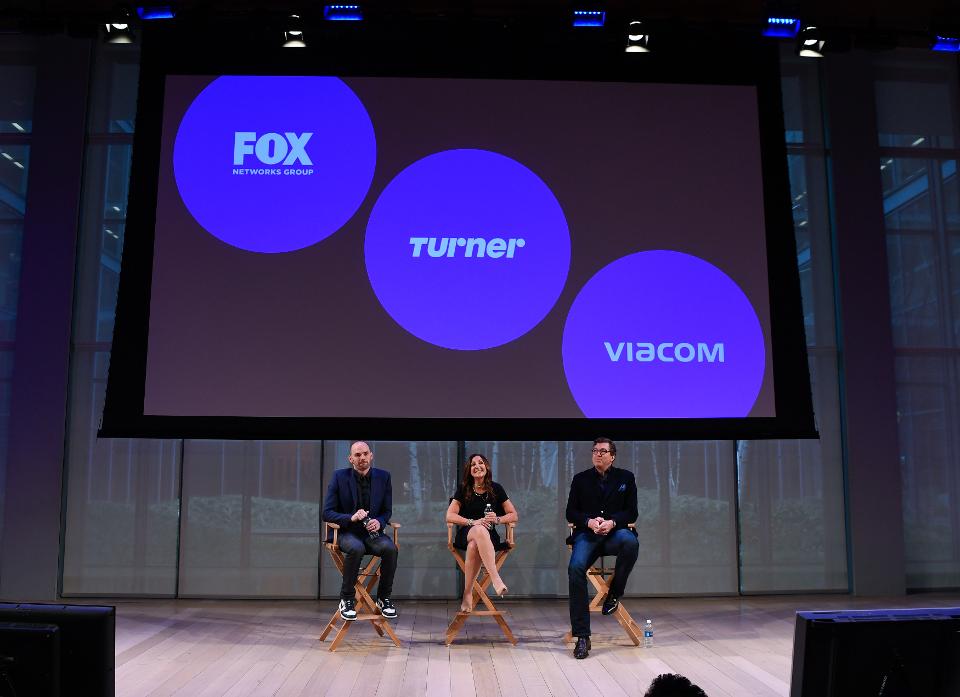 Joe Marchese of Fox, left, Donna Speciale of Turner, and Sean Moran of Viacom at the Times Center event for OpenAP. (Photo by Dave Kotinsky/Getty Images for New Creative Mix Inc.)
With more consumers gravitating to multi-device, often on-demand video consumption, the primary TV currency (e.g., linear audience ratings) has less significance for understanding real reach and resonance as multi-platform content distribution becomes table stakes.  Reconciling digital impressions with linear TV?s Gross Rating Points remains a problem for advertisers and publishers alike in the media industry. While advertiser interest in audience-based TV activation has grown significantly, its real adoption rates have been low due to drawbacks with audience buying around transparency, consistency, and limitations around guarantees. The evolution of TV has brought about new advancements in audience targeting across premium publishers which have ultimately enabled advertisers and agencies to drive more efficiency and effectiveness through their TV budgets.
Executives from these three companies said the partnership does not mean they collude or sell ad packages in tandem; rather, this platform will provide them a channel to continue doing business but using uniform standards. Their only competition in the current market are Nielsen?s Cross-Platform Homes Panel, a leader in the audience targeting platform industry, and comScore?s newly announced cross-platform measurement system covering traditional TV, OTT, and mobile and desktop digital viewing. Turner, Viacom, and Fox plan to work with Accenture to standardize how ads align with audience segments and how they are purchased, all to verify the delivery of commercials against their expected target demographics.
Our Perspective:
Leading programmers, networks, and media companies are beginning to wake up to the shifting dynamics of ?what?s premium? in a multi-device, multi-platform distribution world. What is effective (attracts large, engaged audience) in linear programming does not correlate in all cases with what kinds of content is attractive to commercial or open OTT platforms. The distinction in device or platform is more definitively attracting different audience with non-traditional consumption behavior.  With the shift of platform and content strategy, advertising sales teams stand to increase rates by describing nuances in audience attributes to the demand side instead of selling on GRP alone.
With the increased complexity of advancements in TV advertising, Turner, Fox, and Viacom are creating a market with standardized segments and measurements through Open AP platform ? something novel to the relatively new advanced TV advertising landscape ? to enable Advertisers and Agencies to access premium content on the basis for which advertising will be valued in the future: media value relative to campaign objective.
?This kind of unified measurement system allows a better benchmark for demand to compare relative value of program and platform in the context of audience,? commented Nick MacShane, founder and Senior Managing Director of Progress Partners. ?Open AP streamlines advanced linear TV buys and creates an opportunity for ?apples-to-apples? measurement ? a needed distinction within the tectonic shift underway.?
It is important to note that Open AP is a planning and segmentation platform, not activation; once buyers create segments, they are stored with a third-party measurement system partner, Accenture. Buyers can then sync Open AP?s reporting to their preferred dashboards via APIs. This change will lower market diversity, consolidating the vast amount of companies that currently specialize on certain network providers to a few firms that will compete in a more global and homogenous market following Open AP standards.
The coalition allows marketers to finally deploy advanced advertising techniques on linear TV at scale. For TV networks, the ability to provide augmented audience targeting may help migrate some of the ad dollars that have siphoned to digital back to TV. Looking to the future, we can also expect other cable networks, including Disney and Scripps Networks Interactive, to possibly join Open AP if the platform shows incremental sustainable accrued value to the founding members.
Read More:
Mar. 15, 2017; ?Turner, Fox, Viacom Strike Surprising Alliance to Offer Madison Avenue New Audience Measures? http://bit.ly/2naY0sp
Mar. 16, 2017; ?Fox, Turner, Viacom launch open platform? http://bit.ly/2naY0sp
Mar. 15, 2017; ?Turner, Fox, and Viacom Unveil a ?Laser Focused? Television Ad Targeting Program? http://for.tn/2nTkyxe