Hollywood, FL ? February 22, 2017 ? The Interactive Advertising Board (IAB) hosted its annual IAB Leadership Meeting from January 29-31. Held at the Diplomat Beach Resort in Hollywood, Florida, the event hosted around a thousand attendees for three days of dynamic discussions covering the most pressing topics in the advertising and marketing industries today. The evolution of advertising and marketing through digitalization was abundant in every conversation. Companies are reevaluating their strategies to reach consumers effectively as dominant platforms like Facebook and Google are deliberately reshaping the media landscape.
One CEO described the significance of IAB as "the scratch & sniff" event, as speakers and attendees discussed their own glimpses of the industry?s future. Davis Rosborough, Senior Associate at Progress Partners, noted, ?Everyone is coming together to be, with AdTech?s fifteen-year maturation, with old friends, but there's a hidden agenda. To understand what's going on, what's the dynamic, where are the new third rails, where are the market risks, and what's the signaling from the top (of Demand).? The dialogues throughout IAB highlighted that everyone has come to the conclusion that to be successful in an ever-evolving industry, one that has become digitalized, mobilized, and targeted, you need to stay one step ahead in technology and strategy.
Two keynotes emphasized this powerful message to the advertising community.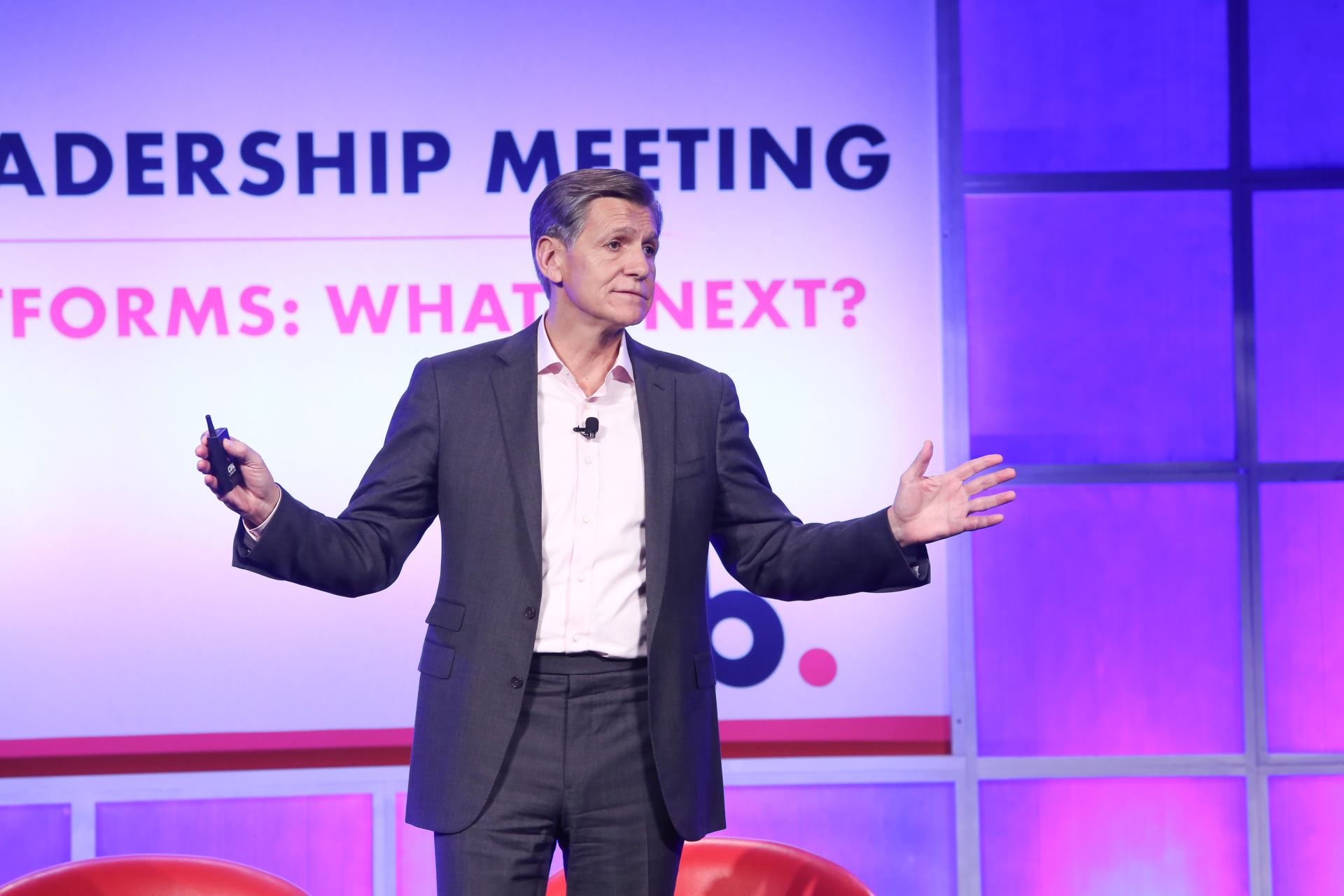 Marc Pritchard, Chief Brand Officer of P&G on stage at IAB Leadership Summit
Marc Pritchard, Chief Brand Officer of P&G messaged that there should not be any more free-passes on an advertisers? Standard of Quality.  "The days of giving digital a pass are over," Mr. Pritchard said, urging the rest of the ad industry to follow P&G?s lead. "It's time to grow up. It's time for action." The need for industry-standard viewability metrics, fraud protection and third-party verification, should be put in the forefront of everyone?s agenda. He vowed that company will not use one dollar of its $2 billion ad spending budget on any digital media, ad tech companies, agencies or other suppliers of services that do not comply with its new rules. A strong message with a strong stand by the world?s largest advertising spender.
Brian O'Kelley, Chief Executive Officer and Co-Founder, AppNexus discussed how the world is beginning to experience the beginnings of the AdTech Renaissance, saying that ?we are on the verge of a scientific revolution in advertising,? indicating the world is changing. ?We are seeing a world where computers are making better decisions about where and how to advertise than people can.? This change will benefit everyone, because not only will the media chain be happier all the way at every level but there will be a ?rebirth of human creativity.? People will develop new and exciting ways to engage all customers. He posed a hypothetical question on whether or not Watson or Cortana will be the next Copernicus. The pondering faces of the audiences perfectly summed up the impact of the AdTech Renaissance on the world.
AdTech?s continued maturation was clear throughout our few days in Florida. We remain excited to watch what happens next as the thought-leaders unify in their message with respect to what changes will be expected or demanded in the near future.
To read about more highlights, visit the IAB Annual Leadership website here.